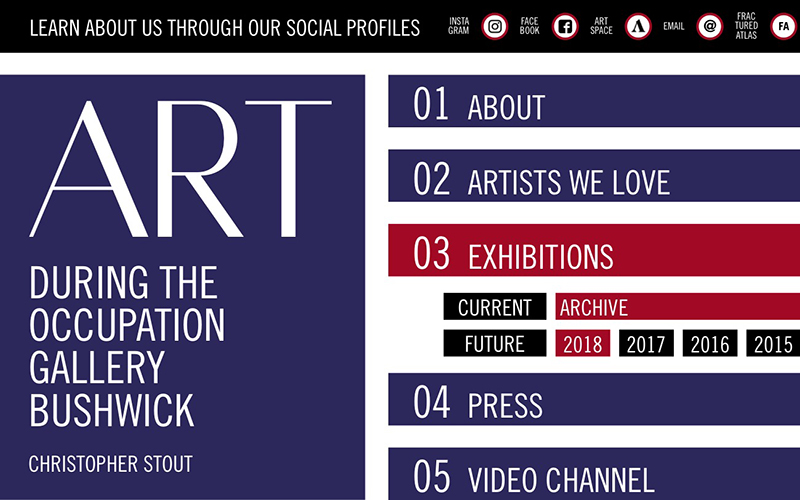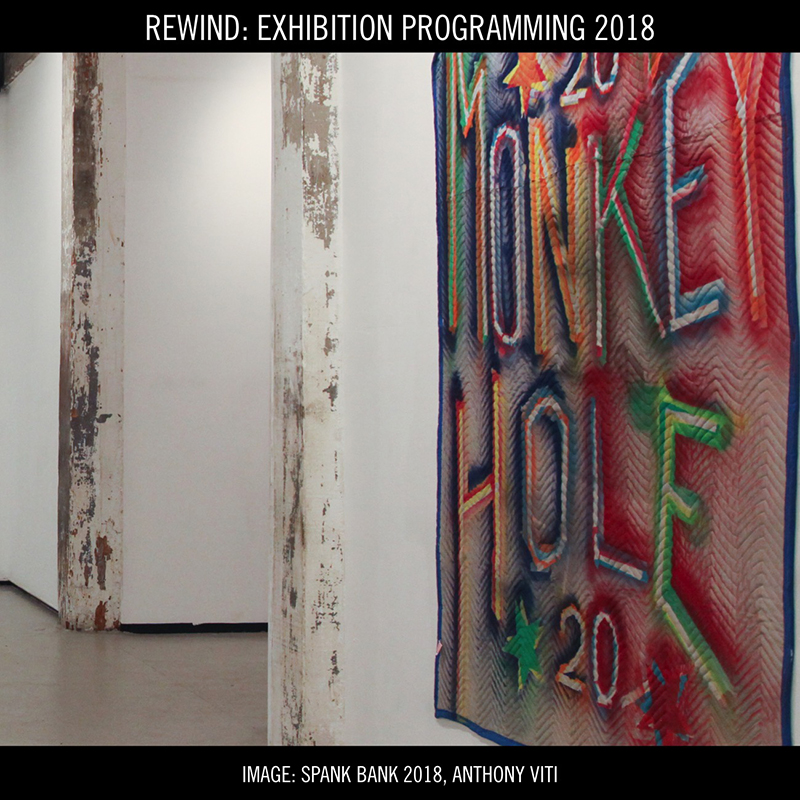 HERE is a look back at the solo exhibitions and art fair projects that have comprised our 2018 visual arts programming at Art During the Occupation Gallery, Bushwick; founded and directed by Christopher Stout.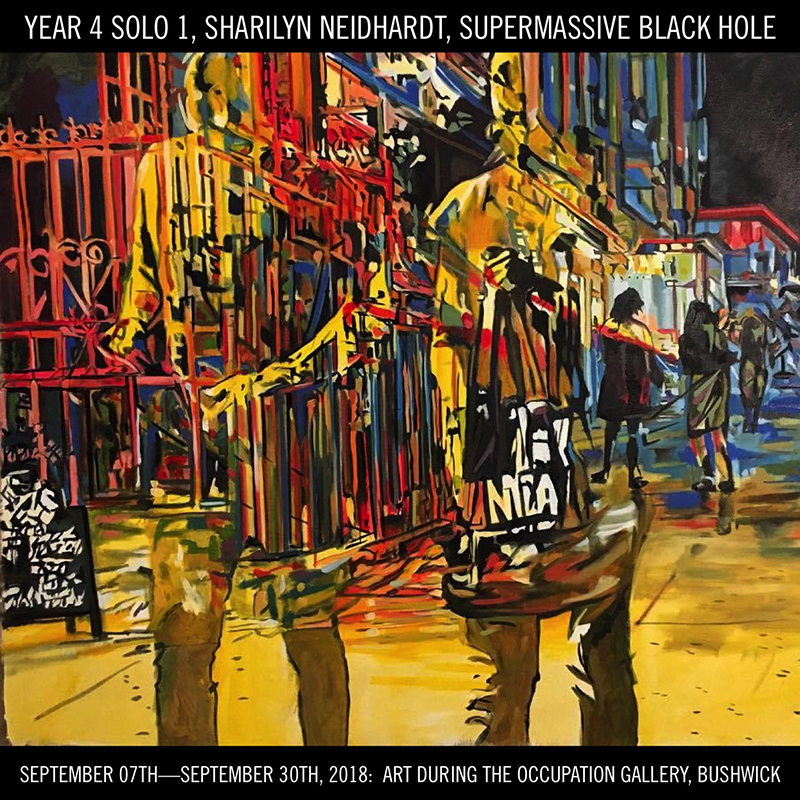 Year 4, SOLO Exhibition 1
SHARILYN NEIDHARDT, SUPERMASSIVE BLACK HOLE


Exhibition Dates: September 07th—September 30th, 2018
Opening Reception: Friday, May 04th, 7:00pm–9:30pm
Bushwick Open Studios Weekend: September 28th–30th


Art During the Occupation Gallery, Bushwick is pleased to welcome you to SUPERMASSIVE BLACK HOLE, the first solo of our fourth year of programming, and also our first solo exhibition of the work of Sharilyn Neidhardt.  

In large-scale paintings of fragmented images that comprise SUPERMASSIVE BLACK HOLE, Sharilyn Neidhardt's work grapples with human feeling in the age of late-stage capitalism. Tumbling urban landscapes fractured in reflection stagger under the weight of gentrification. Human connections are strained by a near-constant barrage of information and convenience; forces of hyperreality and hypernormalization strain our mammal brains and bodies. Gentrification erases and redraws every boundary until even our landscapes are palimpsests. Obfuscating horizon lines and refracting picture planes: these paintings evoke the rootlessness, alienation, and ultimate freedom of city living in the 21st century.
Image Detail: 'Lick Your Wounds to Get Blood On My Teeth' (2018)

The artist in her own words: "From a double-exposure photograph I took on Bedford Ave in Brooklyn, it occurred to me as this work came into focus that the rapid gentrification of my neighborhood in North Brooklyn gave me a kind of double-exposure-vision of the place: for each storefront and intersection I look at, I also see the half-dozen or so businesses and residences that were there before."


ARTIST BIO, SHARILYN NEIDHARDT

(b. 1970, California) - Lives and works in Brooklyn, NY
Web: http://sharilynart.com  ||  Email: info@sharilynart.com
Instagram: @sharilynneidhardt  ||  Facebook: facebook.com/sharilynart
Sharilyn Neidhardt is a Brooklyn-based visual artist. She blends her experiences as a photojournalist and as a
paintmaker into her work depicting experiences of urban life. She was a core member of glowlab and created the Human Scale Chess Game, which was played in several North American cities. With artist Sal Randolph, Ms. Neidhardt toured in the musical act Weapons of Mass Destruction, for which she composed several songs. Sharilyn is a co-founder of the artists community group "Trans-cen-der Art Group," which meets monthly in Brooklyn.  She's an avid cyclist, loves midnight movies, and speaks only a little German.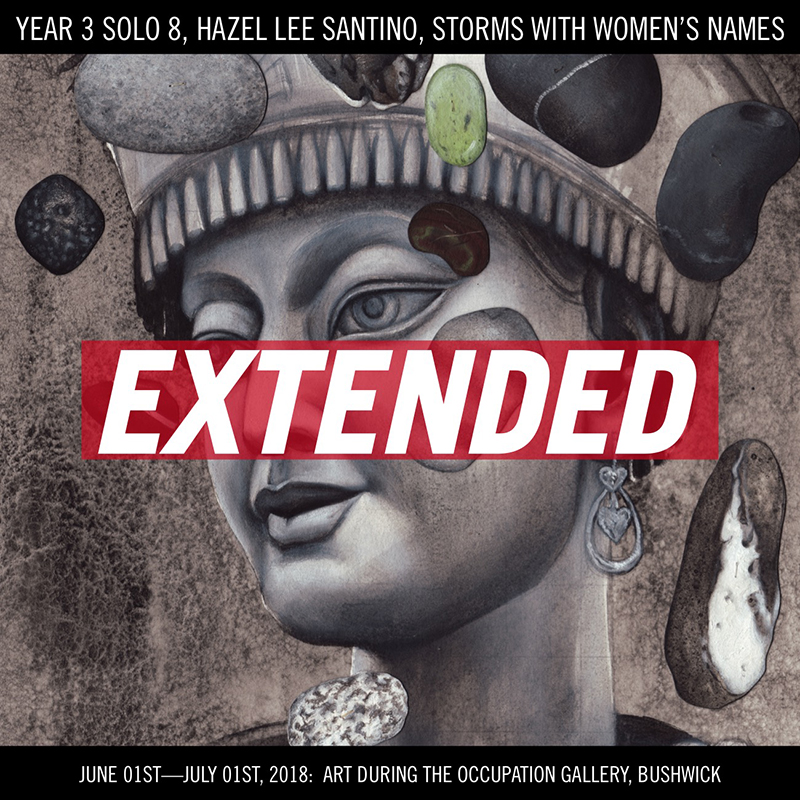 Year 3, SOLO Exhibition 8
HAZEL LEE SANTINO, STORMS WITH WOMEN'S NAMES


Exhibition Dates: June 01st—July 01st, 2018 (EXTENDED)
Opening Reception: Friday, June 01st, 7:00-9:30pm


Art During the Occupation Gallery, Bushwick is pleased to welcome you to "Storms With Women's Names," our first solo exhibition of the work of Hazel Lee Santino.  The works in this exhibition constitute an an ongoing investigation into lust and rage, and the satisfactions of both. The paintings in the exhibit—on paper, miniature hand-cut wood pieces and 12' unstretched canvases—fall into two bodies of work, facing off; Venus and the Furies.

First of two origin myths (simplified): Primordial deity Uranus was a real asshole, so his wife Gaia and their son Chronos cut off his cock. Drops of blood from this castration fall to the skin of the Earth. Venus emerges from the salty white foam at the crest of a wave where a drop of blood hit the sea. Venus, the very embodiment of lust, is not shy about taking advantage of her sexualilty for her own pleasure and success. To save humankind from violence (and meet her insatiable needs), she literally fucks the god of war into submission. Venus deceives, but without malice.
The Venus body is an invitation, its centerpiece a joyously ludicrous birth scene based on Botticelli that replaces the goddess figure with a gargantuan disembodied vulva. The surrounding life-sized realist beachscape, on unstretched canvas adhered flatly to the wall, is a portal.
Flanking the landscape, Venusian portraits on paper draw their base imagery from goddesses of love and beauty that have been sculpted with reverence and put on pedestals. The portraits are paired with pieces of debris from the sea, which nestle into nooks in the face while floating on the surface of the paper. They settle into patterns that could be decorative, could be masks or armor, could be read as fortunes.
Additional replicas of detritus have been painstakingly, and sometimes bloodily, hand-carved from sheets of thin plywood. The wood has been primed and sanded until the surface is inert and then the illusion of life is restored. These objects are displayed throughout, accumulating over time. Interspersed with the cast offs of the sea are fragmented paintings of poisonous plants. The surfaces for the plant paintings are prepared in the same meticulous manner, but begin with the shards of wood left from cutting out the sea debris. They're scraps, and they're the memory of the action that produced them. Some have split along their grain during their preparation.
Second origin myth: The Furies burst forth where Uranus's cockblood hit the soil. Their pleasure in the destruction of flesh, rather than the satisfaction of it. They protect and avenge the wronged with justice that replicates the agony of the offended, beyond the capacity of law. Through violence, the Furies reveal truth.

The Furies portraits begin with depictions of women who took violent physical revenge on men. In these paintings, there's always at least one weak point in the composition, the trace of a potential fissure. This is where the paper is ripped, giving in to a base desire to destroy. From the ruins grow deadly plants, which hold the pieces together.
The Furies landscape revels in the pitfalls of its parts. The unstretched canvas hangs like a curtain. It serves as its own drop cloth for paint that has dripped like the blood it depicts, and footsteps grinding dirt into the gesso. The severed cock at the center melds with the surrounding clouds because, despite being an image of an exceptionally famous castration, it's hard to find a picture with the necessary detail to paint with deceptive realism. The Furies body acknowledges that the works are ultimately not more than their materials; wood splinters, paper rips, canvas drapes.
These two bodies of work are separate, perhaps even in opposition, but are also deeply cross-contaminated. Flowers, no matter how deadly their defenses may be to man, are gaudily-decorated sex organs. The remnants that wash to shore and adorn the beach are the result of violent action. All the works are permeated by the vanity of attempting to create breathing illusions of nature and the obvious materiality of imperfect replicas.
A scientific fact, romanticized:
A storm occurs when two different pressure systems meet; conflicting forces creating a more powerful whole. The calm at the eye is either the impossibility of action when torn in two directions, or it is a comfortable vantage point for introspection.


ARTIST BIO, HAZEL LEE SANTINO

Hazel Lee Santino was born in New York (where she now lives and works) and grew up on the Lost Coast in California. She received a BFA in Illustration and a BA in Literary Studies from Parsons and Eugene Lang in 2012. Her work has been included in group shows at The Lodge Gallery, Nancy Margolis Gallery, Mayson Gallery (New York, NY); Art 3 Gallery, ArtHelix, Bunnycutlet, and Temporary Storage Gallery (Brooklyn, NY); Blanc Gallery (Manila, Philippines); and numerous now-nameless pop-up spaces. She has had commercial work commissioned by Rachel Antonoff, the Baffler, Soylent, and Topic. This is her first solo exhibition.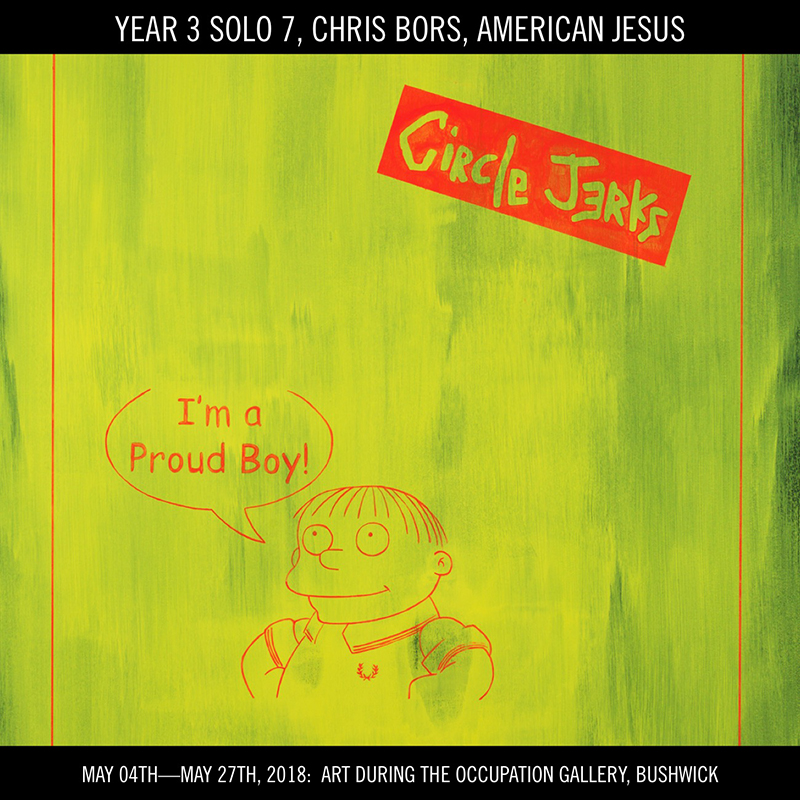 Year 3, SOLO Exhibition 7
CHRIS BORS, AMERICAN JESUS

Exhibition Dates: May 04th—May 27th, 2018
Opening Reception: Friday, May 04th, 7:00-9:30pm
Art During the Occupation Gallery, Bushwick is pleased to welcome you to "American Jesus," our first solo exhibition of the work of Chris Bors. This painting solo is titled after the Bad Religion song and presents new paintings using bold graphics and text commenting on our current political climate, commodification, trash culture, and personal obsessions.

Often using the template from children's Paint with Water activity books, Bors incorporates drips of color to activate the surface and create a jarring contrast, while referencing stain paintings of the 1950s and 60s. Several acrylic on denim works includes hand-made buttons, reminiscent of heavy metal and punk jean jackets. Bors also paints the circles and drips alone, focusing on the materiality of paint itself while arriving at minimal abstraction via pop culture.

Meticulously painted to resemble silkscreen prints, political messaging, or t-shirt graphics, Bors's paintings incorporate a mash-up of images in which any visuals are fair game for repurposing. In Poison Idea, 2018, for example, he combines repeated images of the Major League Baseball team mascot the Phillie Phanatic with the flag of Isis and the logo for the hardcore punk band Poison Idea. His appropriation of hardcore punk band logos plays on the confrontation of violence and solidarity as seen in a music genre with roots based on a struggle for social justice.

Having attended hundreds of hardcore punk concerts over the years, as well as promoting them himself, Bors has used his knowledge and appreciation of this subculture and its participants to magnify its inherent contradictions that mirror society at large.


ARTIST BIO, CHRIS BORS

Chris Bors was born in Ithaca, New York and received his MFA from School of Visual Arts. He coined the term "virtual dumpster diving" to describe the practice of taking images and videos from the web. He had a solo show at Randall Scott Projects in Washington, D.C. and has also exhibited at PS1 MoMA, White Columns, the Bronx Museum of the Arts and Tillou Fine Art in New York, Casino Luxembourg in Luxembourg, Bahnwarterhaus in Esslingen, Germany and Bongoüt in Berlin. His work has been reviewed in the New York Times, Time Out New York, the Brooklyn Rail and featured in Vogue Italia, K48 and zingmagazine. Residencies include Artist in the Marketplace at the Bronx Museum of the Arts, Lower Manhattan Cultural Council's Swing Space, Aljira's Emerge, DNA Artist Residency and Guttenberg Arts.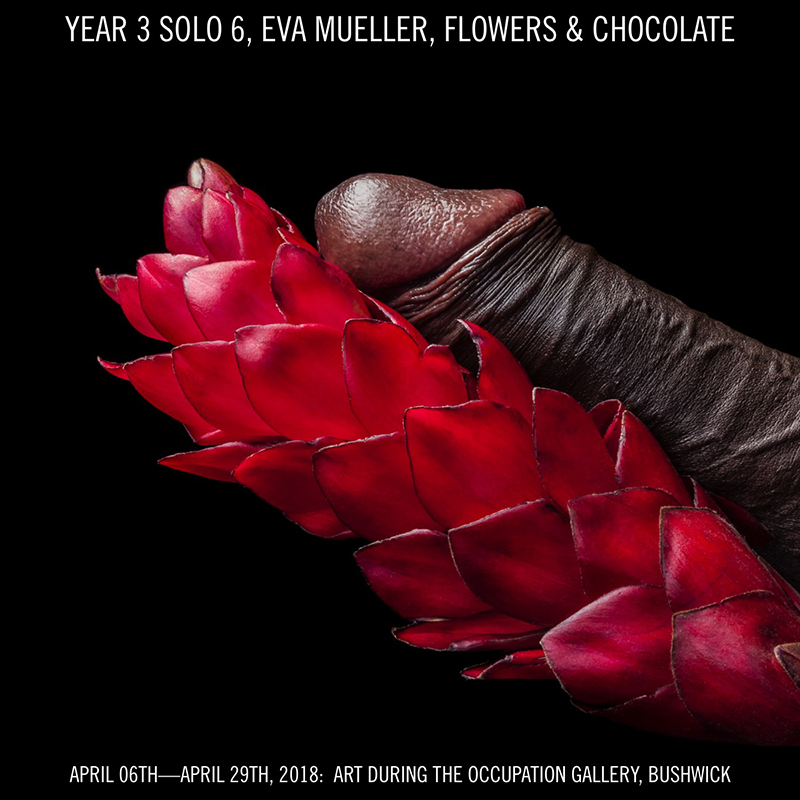 Year 3, SOLO Exhibition 6,
EVA MUELLER, FLOWERS & CHOCOLATE

Exhibition Dates: April 06th—April 29th, 2018
Opening Reception: Friday, April 06th, 7:00-9:30pm

Art During the Occupation Gallery, Bushwick is pleased to welcome you to artist Eva Mueller's April solo photography exhibition, "Flowers & Chocolate," which features hand-constructed light boxes with meticulously crafted portraits of black erect penises, the ultimate symbols of masculinity, each posed with a different flower representing feminine beauty, in markedly different arrangements— showing the fine details of the skin and veins next to the delicate textures of the flower petals. These backlit images create alluring islands of light in the otherwise dark gallery space, creating an atmosphere of intimacy and secrecy.

ARTIST STATEMENT

"Flowers & Chocolate" displays an array of black penises, each posed with a different flower, in markedly different arrangements, imagining the black phallus as a thing of vertiginous beauty.

"If you look at the flower you have to look at the penis, its close-up and it is in your face – how does it make you feel?" Mueller asks. "I was compelled by the sexual confidence and ease of my black male friends but appalled by their stories what they had to put up with on a daily base living in a racially divided culture that propagates intimidation and prejudice. Therefore I decided to create a seemingly absurd scheme by juxtaposing big black erect penises with flowers."

The flowers, universal symbols of beauty, give permission to take a closer look - the subject is removed from the constraints of identity and the power dynamics of pornography. Flowers & Chocolate invites the viewer to reflect on their own perspective of beauty, sexuality, taboo, race and desire but also encourage to look at the black penis without any judgement, as an object of pure beauty.
ARTIST BIO, EVA MUELLER
German-born and raised, Eva Mueller currently lives and works in Brooklyn, New York. Mueller's work has focused on the core constructs of our human existence; such as race, gender identity, and sexuality. In keeping with the philosophical expressions in her work, Mueller is an active member of New York City's queer art and lifestyle community, and many of her art projects revolve around the hidden and the unseen of those nonconforming environments.

Eva Mueller's art practice is expressed with both photography and video. Most recently, Mueller enjoyed a solo exhibition of her "GenderFuck" series at the Leslie-Lohman Museum of Gay and Lesbian Art in New York City 2017, and has also shown her body of work, "Black Face," which provided a take on racism at Odetta Gallery in Brooklyn in 2016.

Eva Mueller's work has been exhibited in museums and galleries in the United States and abroad in the United Kingdom, Germany, France, Australia, and China.

Eva Mueller's also holds a pedigreed background is fashion and portrait photography; she has worked for many style and fashion magazines and shot for most major record labels in the United States, United Kingdom, and Germany.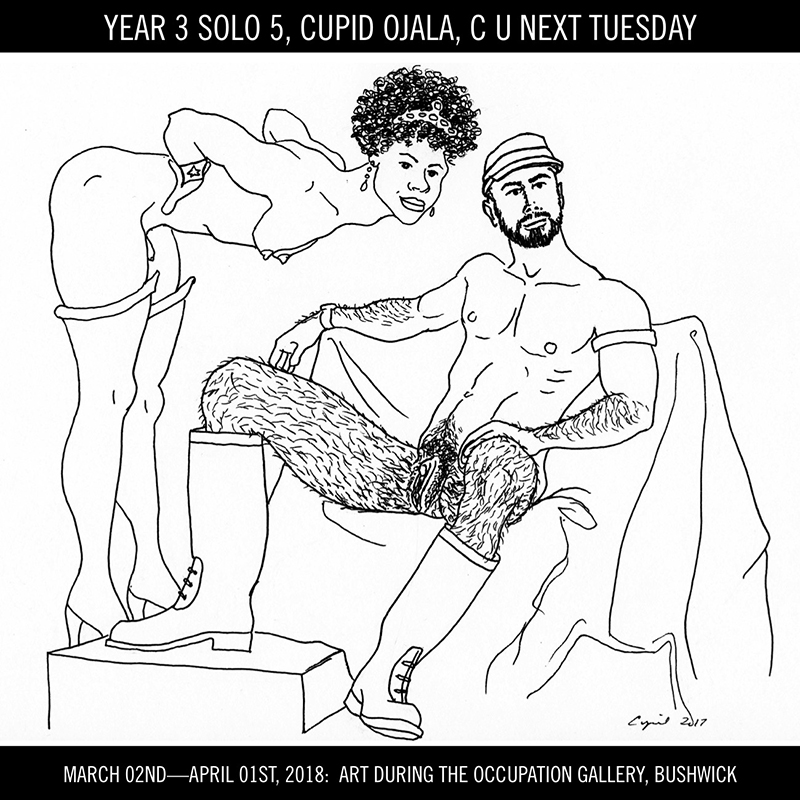 Year 3, SOLO Exhibition 5,
CUPID OJALA, C U NEXT TUESDAY

Exhibition Dates: March 02ND—April 01ST, 2018
Opening Reception: Friday, April 02ND, 6:00-9:00pm

Art During the Occupation Gallery is PROUD to welcome you to artist Cupid Ojala's solo drawing and mural exhibition, "C U Next Tuesday" and our opening and artist reception on Friday, March 02nd from 6-9pm.   
EXHIBITION STATEMENT
Through lines, Cupid Ojala's work conjures new ways of seeing the queer body through the lens of a trans man. Ojala draws bodies that go beyond the question of, "What is it to be inside your own skin in a community?" Instead, he re-embodies cultural signs of gender, and produces new imagery for the transgender and queer communities.
In the "C U Next Tuesday" series, which is produced weekly, the body is outlined and begins with proud gender non-conforming bodies, and evolves further into unicorn iconography that has become the supportive symbol in the queer community.
Throughout the series humor, friendship and fantasy spaces are the themes that speak to larger audiences. Previous explorations of identity can be seen in the "Gender Wilderness" series, where the body is very present; however these playful and erotic characters have new bodies, extra limbs, genital heads, and penises for hands—even the forests they inhabit are bodies ready to be part of the sexual encounter.
Through these different scenarios, Ojala offers impossible bodies that surpass essentialist perspectives and extend new forms of desire. Three of these drawings are on display as part of TAG Institute of Contemporary Art at the University of Pennsylvania.

ARTIST BIO

Born in 1977, Ojala grew up in a conservative Mormon family in rural Bumpass, Virginia. He transitioned from female to male in 2003 and now resides in Brooklyn, New York. He earned his MFA at Parsons The New School for Design in 2012, and his BFA from Virginia Commonwealth University in 1999.
In 2015, he completed a year of a monthly guerrilla performance series called "Love Prescriptions." His exhibitions/performances include the Institute of Contemporary Art at the University of Pennsylvania in 2018, 2ª Bienal Internacional Arte de Gaia in 2017, Art In Odd Places 2014 in New York, Lincoln Arts Gallery in Massachusetts, and The Stamp Gallery at the University of Maryland. In 2013, he performed for Ernesto Pujol in "Time After Us" as part of the Crossing the Line Festival for The French Institute Alliance Française (FIAF).
Cupid Ojala's publication, "The Gender Wilderness Coloring Book," is available at The Bureau of General Services: Queer Division at the LGBTQ Center in Manhattan.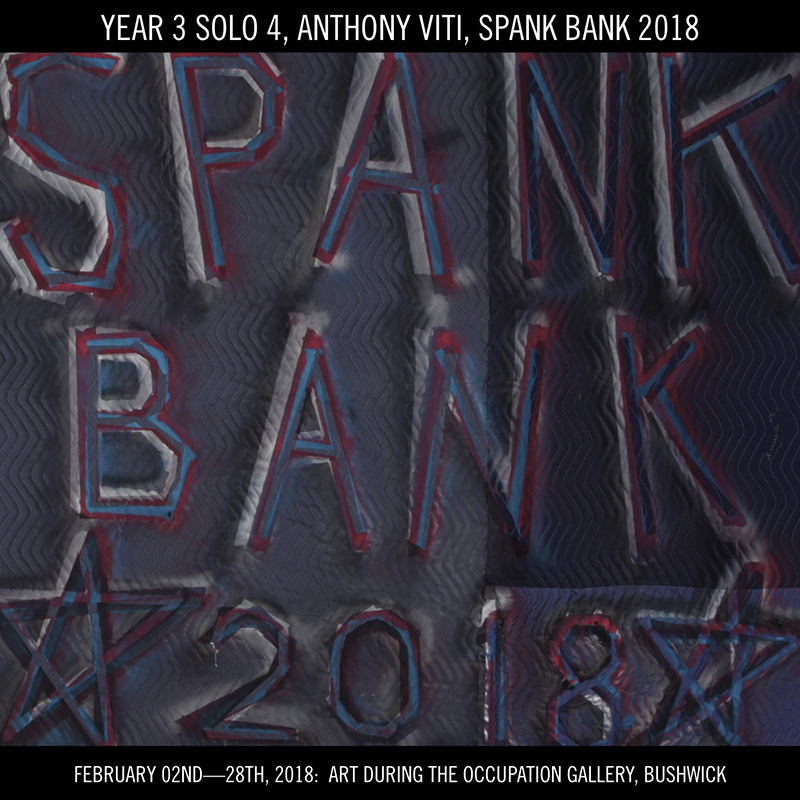 Year 3, Exhibition 4
ANTHONY VITI, SPANK BANK 2018
Exhibition Dates: February 02nd – 28th, 2018
Opening Reception: Friday, February 02nd, 7:00-9:30pm
Art During the Occupation Gallery is PROUD to welcome you to artist Anthony Viti's solo exhibition, "SPANK BANK 2018," a continuation and re-exploration of his wildly evocative series of paintings made from moving blankets. Earlier work from this series was first shown in 2015 at Leslie Lohman Project Space.
Artist Statement: In addition to the shift of prevention strategies, there is the growing movement to criminalize non-disclosure of HIV status, creating more stigma and more hurdles to talk about HIV. Within the narrowing social space for all to take responsibility for risk, I've chosen to give full disclosure in my work, where I explore the erotic identity of HIV positive sero-status as an act of defiance and pride. In my current work Spank Bank, I want to spur thought about sex, HIV, and its place in our lives. In this series, I work with packing blankets, whose original purpose is protective. They are soft and pliable. I would often use them in sex play. They cushioned hard surfaces and absorb fluids you might encounter during sex. These images are culled from cruising sites, manipulated in Photoshop, projected on to the blanket, then rendered by cutting the outer surface exposing the inner stuffing. Surface and interior, legibility and illegibility, objectification and cooperation that circles around notions of of vulnerability, risk, desire and a future.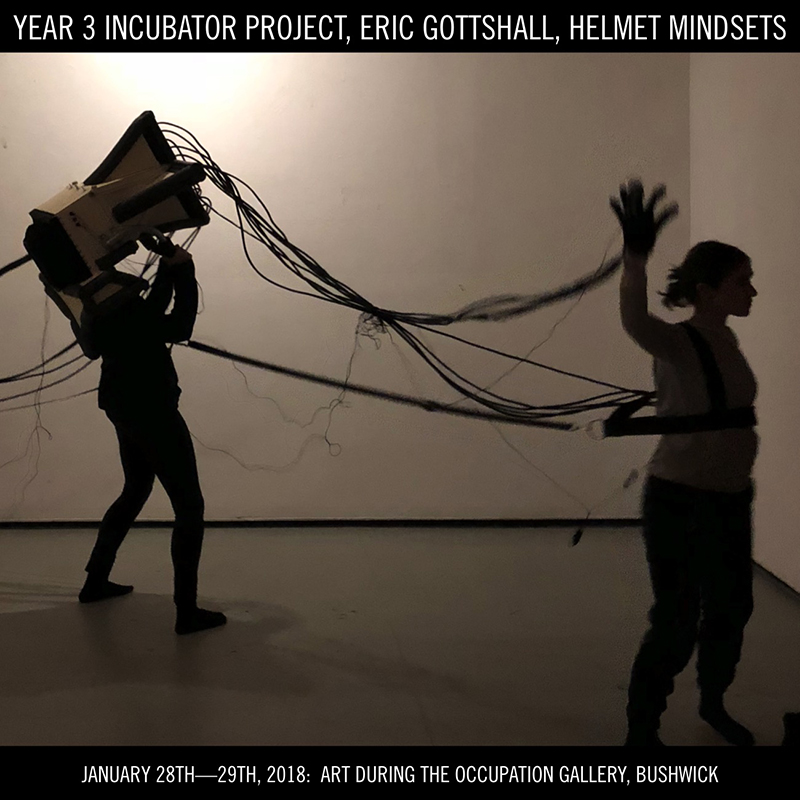 Year 3, Incubator Project
Eric Gottshall with Juecheng Chen and Adriana Norat, HELMET MINDSETS
Exhibition Dates: January 28th – 29th, 2018
Nightly 1 Hour Performances: 8:00-9:00pm
Art During the Occupation Gallery is PROUD to welcome you to HELMET MINDSETS, a two-night avant-garde expositions of helmets and sounds as interpreted by:

Eric Gottshall, Multimedia Artist
Juecheng Chen, Conceptual Countertenor
Adriana Norat, Composer

and performed by Debbie Mausner, Chava Lansky, Lexie Thrash and Juecheng Chen...

Through a unique combination of singing, sound design and augmented reality, the artists and perfomers of HELMET MINDSETS will reveal a universal expose of humanity in the face of authority. The countertenor voice and special helmets (F.A.C.E. UNITS), will simultaneously react to impressions of authority in a sonic environment. Each helmet (F.A.C.E. Unit) presents an entirely unique set of observational constraints. Each party will manifest in the bellow societal archetype.

Act I: Self-Righteous: Through a series of mirrors, F.A.C.E. Unit "Voyeur-Vision" forces the wearer to stair unabashedly at their own genitalia, whilst only allowing a very small opening through which to view the rest of his/her/their surroundings.

Act II: Passive: Through a single angled mirror, F.A.C.E. Unit "Foresight" forces the wearer to stair at only the small patch of ground encircling his/her/their feet.

Act III: Activist: Through a series of fiber optic cables/microphones linking the fingers of two wearers to the helmet face of the wearer three, F.A.C.E. Unit "Group Vision" directs light, color, movement, and sound to the central helmet wearer.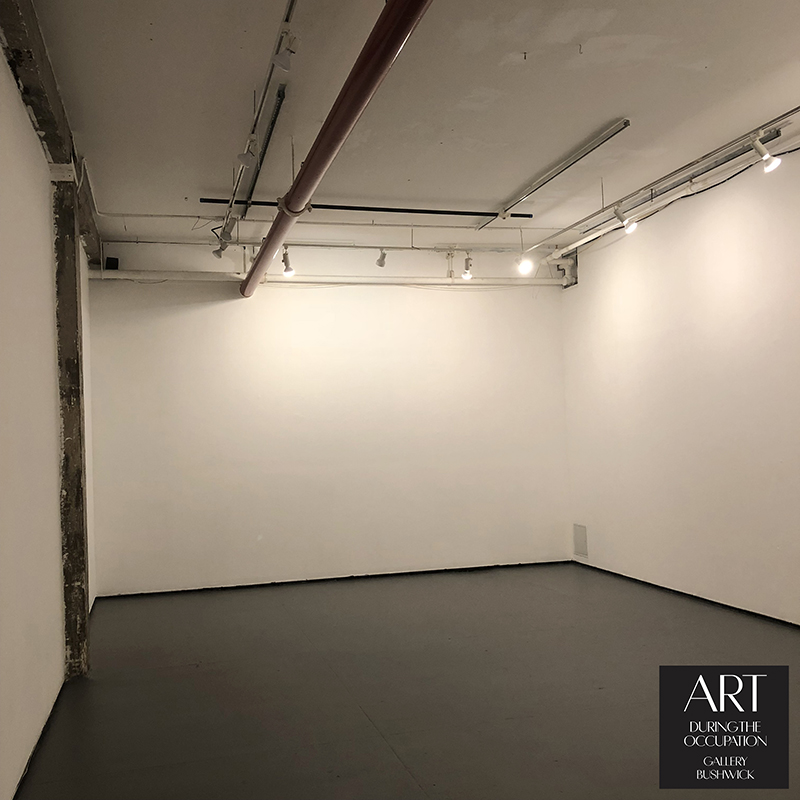 Art During the Occupation Gallery, Bushwick is a not for profit contemporary art space showing subversive and difficult work. We delight in serving as a platform for discourse on work that is challenging to authority paradigms, feminist, queer, anti-establishment, hyper-aggressive, mystic, and/or joyously sexual.
Our gallery was launched in 2015 by Christopher Stout who serves as gallery founder and director.
-------------------------------


Art During the Occupation Gallery, Bushwick

(formerly Christopher Stout Gallery, New York)

119 Ingraham Street
Ground Floor Main Gallery in the Brooklyn Fire Proof Building
Brooklyn, New York 11237
Metro Stop: L Train, Morgan Street Stop

Gallery Hours: Friday, Saturday, and Sunday 1-5pm, and also by private appointment.

Web: www.art-during-the-occupation-gallery.com
Telephone: (646) 872-9990
Email: ArtDuringTheOccupationGallery@gmail.com

Instagram: @artduringtheoccupationgallery and Hashtag: #artduringtheoccupationgallery
Facebook:www.facebook.com/ArtDuringTheOccupationGallery