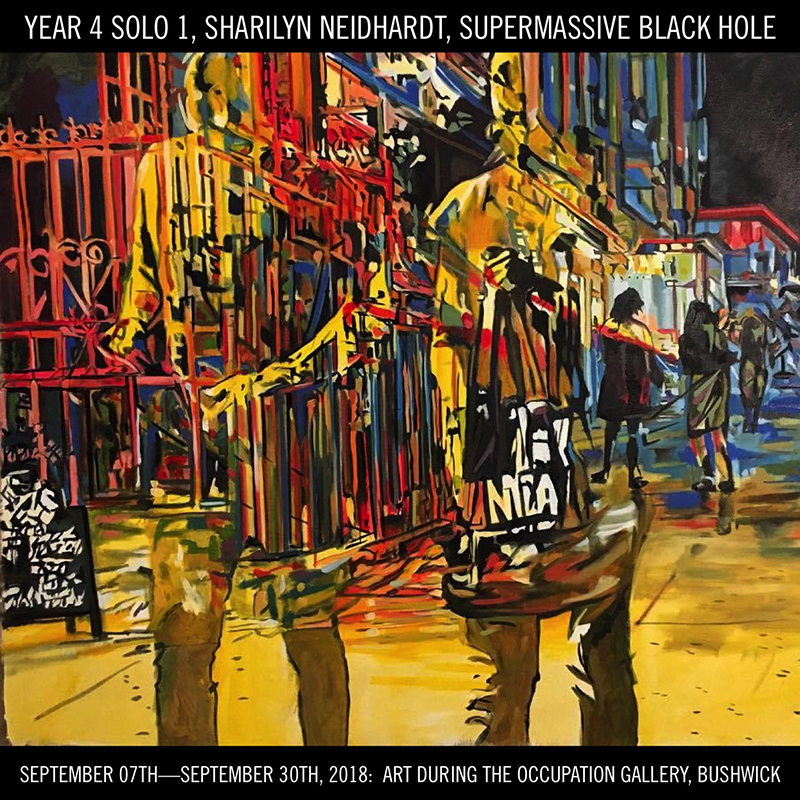 Year 4, SOLO Exhibition 1
SHARILYN NEIDHARDT, SUPERMASSIVE BLACK HOLE


Exhibition Dates: September 07th—September 30th, 2018
Opening Reception: Friday, May 04th, 7:00pm–9:30pm
Bushwick Open Studios Weekend: September 28th–30th


Art During the Occupation Gallery, Bushwick is pleased to welcome you to SUPERMASSIVE BLACK HOLE, the first solo of our fourth year of programming, and also our first solo exhibition of the work of Sharilyn Neidhardt.  

In large-scale paintings of fragmented images that comprise SUPERMASSIVE BLACK HOLE, Sharilyn Neidhardt's work grapples with human feeling in the age of late-stage capitalism. Tumbling urban landscapes fractured in reflection stagger under the weight of gentrification. Human connections are strained by a near-constant barrage of information and convenience; forces of hyperreality and hypernormalization strain our mammal brains and bodies. Gentrification erases and redraws every boundary until even our landscapes are palimpsests. Obfuscating horizon lines and refracting picture planes: these paintings evoke the rootlessness, alienation, and ultimate freedom of city living in the 21st century.
Image Detail: 'Lick Your Wounds to Get Blood On My Teeth' (2018)

The artist in her own words: "From a double-exposure photograph I took on Bedford Ave in Brooklyn, it occurred to me as this work came into focus that the rapid gentrification of my neighborhood in North Brooklyn gave me a kind of double-exposure-vision of the place: for each storefront and intersection I look at, I also see the half-dozen or so businesses and residences that were there before."


ARTIST BIO, SHARILYN NEIDHARDT

(b. 1970, California) - Lives and works in Brooklyn, NY
Web: http://sharilynart.com  ||  Email: info@sharilynart.com
Instagram: @sharilynneidhardt  ||  Facebook: facebook.com/sharilynart
Sharilyn Neidhardt is a Brooklyn-based visual artist. She blends her experiences as a photojournalist and as a
paintmaker into her work depicting experiences of urban life. She was a core member of glowlab and created the Human Scale Chess Game, which was played in several North American cities. With artist Sal Randolph, Ms. Neidhardt toured in the musical act Weapons of Mass Destruction, for which she composed several songs. Sharilyn is a co-founder of the artists community group "Trans-cen-der Art Group," which meets monthly in Brooklyn.  She's an avid cyclist, loves midnight movies, and speaks only a little German.



In early August, the MTA issued a shocking and inflammatory press release, announcing that L train WEEKEND service will be suspended during the entire month of October.
The L Train is an absolutely essential and arterial component for public and art world access to our space, and this decision is cataclysmic to our scheduled fall exhibition timeline.
As a result of the MTA's decision:
Our gallery will go DARK for October.
We will present 2 solos during November. Our scheduled October solo by Linda Griggs will run during the first 2 weekends of November. Our schedule November solo by David B. Frye will run during the last 2 weekend of November.
Thank you for your patience and understanding as we try to navigate access to our programming during this unprecedented chapter of Bushwick art world history. 



Art During the Occupation Gallery, Bushwick is a not for profit contemporary art space showing subversive and difficult work. We delight in serving as a platform for discourse on work that is challenging to authority paradigms, feminist, queer, anti-establishment, hyper-aggressive, mystic, and/or joyously sexual.
Our gallery was launched in 2015 by Christopher Stout who serves as gallery founder and director.
-------------------------------


Art During the Occupation Gallery, Bushwick

(formerly Christopher Stout Gallery, New York)

119 Ingraham Street
Ground Floor Main Gallery in the Brooklyn Fire Proof Building
Brooklyn, New York 11237
Metro Stop: L Train, Morgan Street Stop

Gallery Hours: Friday, Saturday, and Sunday 1-5pm, and also by private appointment.

Web: www.art-during-the-occupation-gallery.com
Telephone: (646) 872-9990
Email: ArtDuringTheOccupationGallery@gmail.com

Instagram: @artduringtheoccupationgallery and Hashtag: #artduringtheoccupationgallery
Facebook:www.facebook.com/ArtDuringTheOccupationGallery